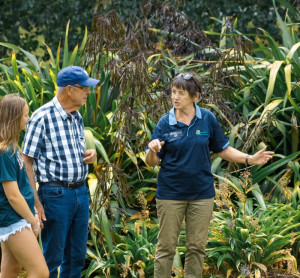 Join a fantastic, guided tour with knowledgeable and friendly guides showcasing some of our spectacular collections.
Botanic Gardens
Volunteer guides from the Friends of the Botanic Gardens offer free guided walks at the Botanic Gardens between October and April, and throughout the year on request.
1.30pm.
Meet outside the Kiosk.
Botanic Gardens tours are 45 to 60 minutes long unless otherwise stated.
Mona Vale
Seasonal walks at Mona Vale are offered throughout the year.
1.30pm.
Meet at the Rose Garden car park.
Mona Vale tours are 90 minutes.
Special interest group tours
If you have any queries or would like to arrange a special interest tour for a group, please contact friendsofthegardens@gmail.com or phone Pat Whitman at 03 384 3475.
Local groups are $5 per person, international groups are $10 per person.

Botanic Gardens and Mona Vale walks
| | | |
| --- | --- | --- |
| Date | Location | Theme |
| Friday 24 November | Christchurch Botanic Gardens | Curator's House Potager Garden |
| Saturday 25 November | Christchurch Botanic Gardens | Trooping the colour: Our Herbaceous Border |
| Saturday 25 November | Mona Vale Gardens | General interest walk (90 mins) |
| Sunday 26 November | Christchurch Botanic Gardens | General interest walk (90 mins) |
| Monday 27 November | Christchurch Botanic Gardens | Curious conifers: A walk in the Pinetum |
| Tuesday 28 November | Christchurch Botanic Gardens | NZ Gardens: NZ Natives |
| Wednesday 29 November | Christchurch Botanic Gardens | Plant hunters: Plants and their stories |
| Thursday 30 November | Christchurch Botanic Gardens | NZ Gardens: NZ Natives |
| Friday 1 December | Christchurch Botanic Gardens | NZ Gardens: NZ Natives |
| Saturday 2 December | Christchurch Botanic Gardens | Trooping the colour: Our Herbaceous Border |
| Sunday 3 December | Christchurch Botanic Gardens | Curator's House Potager Garden |
| Monday 4 December | Christchurch Botanic Gardens | Plant hunters: Plants and their stories |
| Tuesday 5 December | Christchurch Botanic Gardens | General interest walk (90 mins) |
| Wednesday 6 December | Christchurch Botanic Gardens | Commemorative trees |
| Thursday 7 December | Christchurch Botanic Gardens | General interest walk (90 mins) |
| Friday 8 December | Christchurch Botanic Gardens | Gondwana Collection |
| Saturday 9 December | Christchurch Botanic Gardens | Biggest, smallest, quirkiest, tallest... |
| Sunday 10 December | Christchurch Botanic Gardens | General interest walk (90 mins) |
| Monday 11 December | Christchurch Botanic Gardens | Conservatories |
| Tuesday 12 December | Christchurch Botanic Gardens | NZ Gardens: NZ Natives |
| Wednesday 13 December | Christchurch Botanic Gardens | Curator's House Potager Garden |
| Thursday 14 December | Christchurch Botanic Gardens | General interest walk (90 mins) |
| Friday 15 December | Christchurch Botanic Gardens | Curious conifers: A walk in the Pinetum |
| Saturday 16 December | Christchurch Botanic Gardens | NZ Gardens: NZ Natives |
| Saturday 16 December | Mona Vale Gardens | General interest walk (90 mins) |
| Sunday 17 December | Christchurch Botanic Gardens | General interest walk (90 mins) |
| Monday 18 December | Christchurch Botanic Gardens | Notable trees |
| Tuesday 19 December | Christchurch Botanic Gardens | NZ Gardens: NZ Natives |
| Wednesday 20 December | Christchurch Botanic Gardens | Notable trees |
| Thursday 21 December | Christchurch Botanic Gardens | NZ Gardens: NZ Natives |
| Friday 22 December | Christchurch Botanic Gardens | Trooping the colour: Our Herbaceous Border |
| Saturday 23 December | Christchurch Botanic Gardens | NZ Gardens: NZ Natives |
| Sunday 24 December | Christchurch Botanic Gardens | Notable trees |
| Monday 25 December | Christchurch Botanic Gardens | Christmas Day: No guided walk |
| Tuesday 26 December | Christchurch Botanic Gardens | General interest walk (90 mins) |
| Wednesday 27 December | Christchurch Botanic Gardens | Prince of plants: The noble palm |
| Thursday 28 December | Christchurch Botanic Gardens | Curious conifers: A walk in the Pinetum |
| Friday 29 December | Christchurch Botanic Gardens | Gondwana Collection |
| Saturday 30 December | Christchurch Botanic Gardens | Notable trees |
| Saturday 16 December | Mona Vale Gardens | General interest walk (90 mins) |
| Sunday 31 December | Christchurch Botanic Gardens | Gondwana Collection |