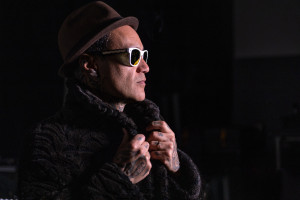 One of the most well-known and diverse artists and producers in Aotearoa (New Zealand), Tiki Taane(external link) (Ngāti Maniapoto / MacDuff) is considered to be an influential element in the pioneering of Aotearoa's bass culture, as well as the country's most prolific genre-bending experimentalist.
First hitting the stage in 1991, Tiki went on to become the live engineer and eventually frontman of Salmonella Dub in 1996, which catapulted Tiki to embark upon a life-changing solo career that saw his music and production skills reach record-breaking, award-winning heights.
Tiki's 2008 self-produced debut solo release 'Past Present Future' achieved double platinum sales and picked up a swag of NZ Music awards.
His beautiful acoustic love ballad 'Always On My Mind' rose to #1 and broke two all-time NZ records – it sat in the charts for a record 55 weeks and was also the first-ever NZ digital single to achieve platinum sales.
Tiki has produced multi-platinum, chart-topping singles and albums, not only for himself but for NZ artists such as Salmonella Dub, Six60 and longtime friends Shapeshifter - he's been their exclusive live sound engineer since 1999.
Renowned as much for his powerful, live performances as he is for the anthems he writes and produces, Tiki's extraordinary ability to rock the mic as a hype MC, or as a one-man band live looper, or through the collaborations he does with bands and orchestras, is something to be experienced firsthand.
No matter the set he performs, or which country he performs in, the audience is always reminded of the sheer power of Tiki's ability to unify and connect as he seamlessly delivers a unique performance experience, making him the most diverse producer and performing artist in Aotearoa NZ.
Tiki works alongside his two older sisters as the CEO of his production company and record label TIkidub Productions, which he established in 2006.