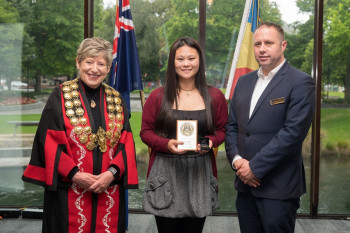 Her involvement in the 2012 FESTA event that opened the Christchurch CBD for the first time since the earthquakes, made her realise that putting her enormous dynamism into helping established entities to do good in and for the City could have a huge impact on future developments.
To this end she turned down several excellent job opportunities to become a serial volunteer, working for such groups as GapFiller, Pechakucha, TEDxChristcurch and what would later become Te Pūtahi.
Each project she works on sees the production of resources and the creation of relationships between sponsorship bodies and volunteer-only organizations, boards and individuals of interest.
While the specific benefits of her work are unique to each organization, the overall thread running through them is the strengthening of that organization while enabling a diverse range of voices to contribute to it on an equal basis.
Her work has benefitted too many groups to mention, and despite constant battles to justify her involvement in high-powered roles and the challenges posed by recent motherhood, not to mention the pressures involved in running her own business, she continues to give of her energies and passion without stint.
She is a creator of opportunities, an opener of doors, a weaver of relationships par excellence.