The 2019 Annual Report was adopted by the Christchurch City Council on 26 September 2019.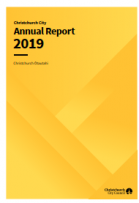 2019 Annual Report [PDF, 3.9 MB]
2019 Annual Report – Summary [PDF, 2.5 MB]
The 2019 Annual Report is our first opportunity to report on our progress against the key goals set in our 2018–2028 Long Term Plan. In preparing our Long Term Plan we used feedback from residents about what they wanted us to achieve for Christchurch over the 10-year period and what they wanted us to prioritise.
This Annual Report shows that we remain focused on bringing infrastructure and services across the city up to the standard residents expect. The report outlines our overall financial position and performance as measured against financial key performance indicators.