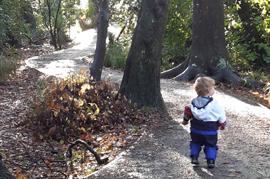 Time: 20 minutes return, buggy-friendly.
Features: Big trees, Opawaho/Heathcote River, lakes and swans.

Start at Ernlea Terrace (opposite South Library, Colombo St). Follow beside the river through Ernle Clark – watch out for Sam and Samantha, the white swans – they can be a bit territorial in spring.
For a longer walk carry on to reach Cashmere Playground (another 30 minutes return).