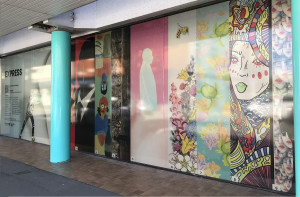 'Express' by Kristy McDonald and Ryan Navickas collates slivers of artworks crafted by fellow students at Ara Institute of Canterbury studying design, art and photography. Express is based on a theme of revealing your inner passions.
Enliven Places collaborated with Ara to bring a splash of colour to the prominent façade of Ara's campus building on lower High Street. Student artists designed the work as part of their Professional Practice course, which provides work experience by matching students with real world project briefs.
This artwork can be found on the High Street-facing side of the Ara building at 248 Tuam Street.
For more information about the artists, visit Ara's D4 Creative(external link).