News: Christchurch Northern Corridor - Project Update: 20 December 2019
Last updated: 25 Feb 2020
| | |
| --- | --- |
| When | Tue 25th Feb 2020 06:39 am |
| Contact | You can call us on 0800 262 200, email at info@cncalliance.co.nz or visit our project office at 145 Winters Road, Mairehau, accessed from QEII Drive (left in and out only). |

Check out the progress we have made
Here is a link to a drone flyover video we filmed earlier this month.(external link)
---
The beams are on at QEII Drive Bridge
The beams have all been placed on the QEII Drive Bridge. The job went very well with delays kept to a minimum.

---
What's next for SH1 next year
We will be back on site on Monday 6 January 2020 and our first jobs will be to asphalt the new Waimakariri Bridge decks and build and seal the approaches to the bridge. Most of this work will happen at night to minimise traffic disruption. Expect to find traffic shifted onto different lanes including the new lanes on the bridge once sealed. Delays are possible due to lane closures in both directions.
There will be more on this in the New Year.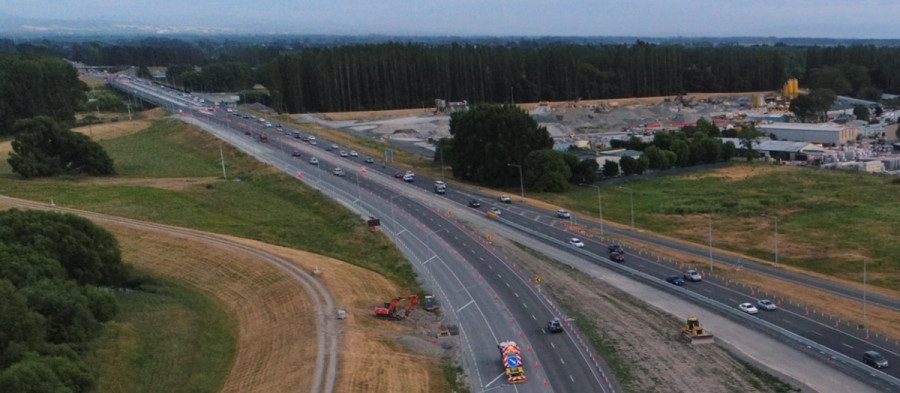 ---
Prestons Road Bridge ready for beams
We have placed all the beams on the east side of the Prestons Road Bridge. We want to place the west side beams in early January so you may see some of us on-site at Prestons Road over the Christmas break but not on the actual public holidays.

---
Cranford Street update
We will be back on-site on Tuesday 7 January, working at the Innes Road intersection installing traffic signals and opposite PlaceMakers installing street light poles.
The following week, we plan to mill the northbound lane between Knowles Street and McFaddens and start work on the central median and the U-turn bays. Chip seal and asphalt will be applied mid and late January. From this time on, side streets will be left in and out only.
From early February all the eastern side streets of Cranford Street will be closed so we can resurface the southbound lane.
What's next?
In late February we will be resurfacing the upgraded Cranford Street and Innes Road intersection, this work will be happening at night. Lane and road closures will be in place when we do this work for around eight nights.
Early next year we will move traffic onto the new Cranford Roundabout.

---
I hope you all have an awesome and safe holiday
Look who is flying over our site.